HOW IT WORKS
Drag, Drop
and Publish!
As simple as dragging and dropping, with Arkeyva you can develop the most varied types of solutions quickly and easily.
In just ten minutes it is possible to build, from scratch, a complete registration functionality.
Designer
Forms
Create reusable fields.
Custom formatting of fields, such as CEP, CNPJ, CPF, E-mail, Telephone among others.
Request for access to the location on the device.
Preparation of acceptance forms, such as GDPR.
Profile-based access restriction.
Integration via APIs for filling screen components, such as lists, combos and text boxes.
Development of custom screen layouts .
Event-based rule definition.
Creating fully responsive forms.
Reuse of components such as fields, masks, views and forms.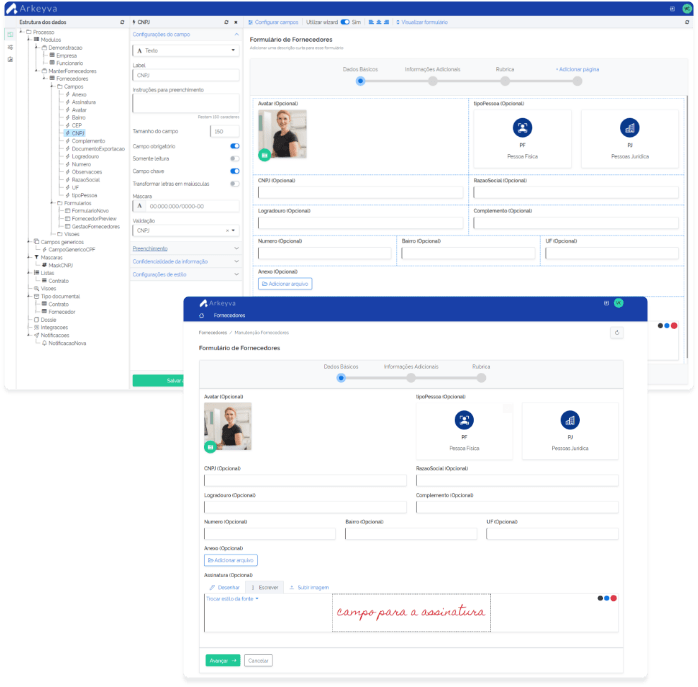 Designer
Vision Creation
Easily create views according to the desired filter criteria. With Arkeyva you set the types of views according to the access profile or permissions based on screen information.
Build managerial and restricted views using the same dataset, however, allowing managers to view all information, without any filter application, and for the work team to display with data filters.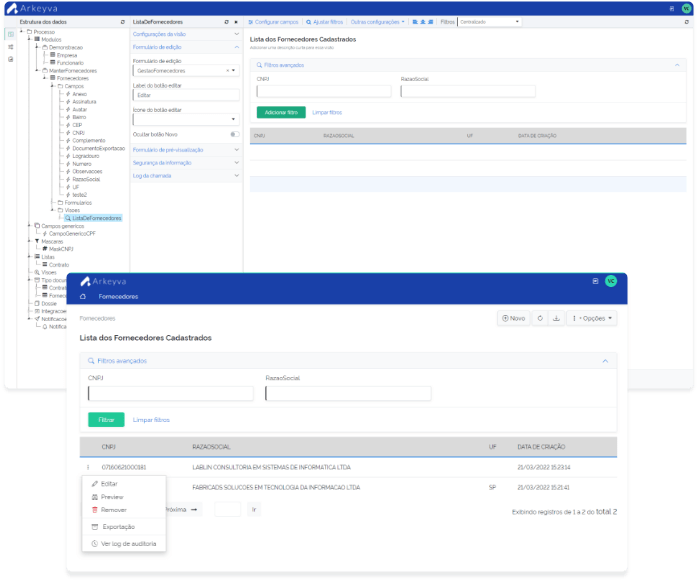 Nodefy
Integrations
In addition to simple integrations via API to load and maintain form information, Arkeyva has a powerful integration bus, based on data flows using the browser.
single login
SSO (Single-Sign On)
Arkeyva allows integration with LDAP, Active Directory or Database servers to obtain your corporation's login information.
Authentication can also be done from Gmail accounts and Social Networks such as Facebook and Twitter.
Need an extra layer of security? It is possible to use two-factor authentication and define policies for creating passwords.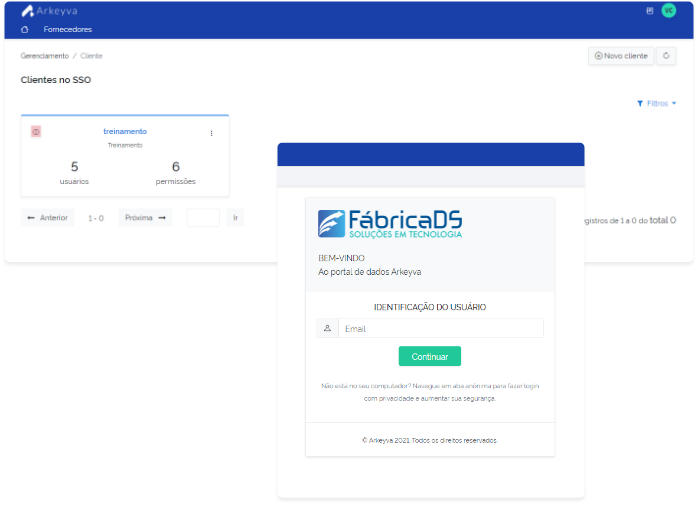 Reliable
Safety
Security is an essential requirement for the success of the solution. Arkeyva has invested heavily in this area and provides encryption for all persisted information. But not only that! Arkeyva can also store the user's location during information logging and create audit trails for all records maintained. Easily find out who created or manipulated certain information and from where.
Do you have a standard log structure? No problem! Arkeyva allows your log to have a custom structure and the desired information.